Australian Financial Review (AFR) article by Sarah Turner and Vesna Poljak
What you didn't own mattered just as much as what you did own, if you wanted to outperform the market in 2017-18, top fund managers say.
.
.
.
.
"Fundamentally we are a bottom-up shop. So the earnings growth profile of energy and resource sector companies just looked overwhelmingly better than the banks. Even if you look at the numbers now for fiscal year 2018 and, although it's still early, for fiscal 2019, most of the earnings growth across the market is supported by those two sectors."
Ms Stevanovic and Mr Patkar also owned Aristocrat and healthcare positions.
Troy Angus, manager of Paradice's large caps strategy, attributed part of the fund's performance to well-timed entries into resources anticipating the cyclical upturn in the global economy back in 2016 which has supported strong commodity prices into 2018.
"That led us to invest in commodity stocks BHP, Rio Tinto and South 32, but also some of the industrial-type names, the likes of Computershare and Macquarie Group." Computershare is a way to capitalise on rising interest rates.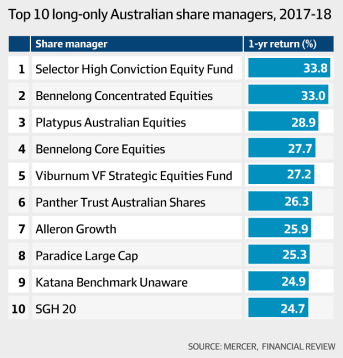 Please click the link below to view the full AFR article
Alleron Growth – Top 10 Performing Australian Equities Fund Manager for Mercer Survey FY2018